Resort information for Dubai, United Arab Emirates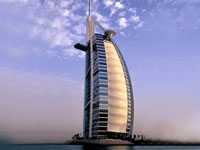 Dubai
Originally a small fishing settlement that became a busy port of call on the ancient trade route between Mesopotamia and the Indus Valley, the emirate was rapidly transformed into an international business centre and modern tourist destination following the discovery of oil in 1966. Today Dubai ranks as the country's foremost commercial centre, a city whose skyline is constantly being upgraded with new developments providing the infrastructure and facilities needed for a progressive society, including world-class hotels, shopping plazas and outstanding sports facilities. Dubai Creek divides the city centre into two parts: Deira on the northern side and Bur Dubai to the south and each has its fair share of souks, restaurants, hotels, shopping malls and fine mosques. From within these high standards of luxury and convenience, visitors can experience exotic Arabia in the bustling souks or a night in a Bedouin tent with belly-dancing under the starlit desert skies, as well as a way of life that is still embedded in the Islamic traditions of an ancient land. Dubai's attraction lies in the contrast between the ultra modern and the enchantingly traditional, which gives the city a personality like no other and visitors a variety of experiences to choose from. From desert oases and unspoiled beaches, camel races and old wind towers, to top-class shopping opportunities, avant-garde architecture and the finest international cuisine, Dubai has more than enough depth to satisfy even the most seasoned of travellers. One of the city's top attractions is its excellent shopping. As an open port with low import duties, Dubai can offer an incredible range of top brand names at cheaper prices due to the tax-free environment, and 'shopping tourists' are drawn from around the world to this paradise of malls, souks, boutiques and modern department stores selling everything from Paris fashions to Japanese electronics. The annual Shopping Festival attracts millions of tourists to the city for a shop-till-you-drop holiday.
Getting Around Dubai
The most common way of getting around Dubai is by taxi; they are cheap and easy to find. Many hotels offer shuttle bus services for guests as well. Metered taxis are cream coloured, with uniformed drivers. The public bus service covers most areas of the city and its beaches; the monthly period pass as well as the discounted purse pass are available. Routes and bus numbers are posted in both Arabic and English. Small wooden motorboats (abras) cross the creek every few minutes between Bur Dubai and Deira. Cars are the most popular method of transport for locals in the city, and although roads are well-marked and car hire cheap, visitors should think twice about hiring one, as driving standards are erratic and accidents frequent. All accidents must be reported to the police, and chances are good that a visit to the police station will be necessary. Outside the city, signposts are rare. To hire a car, a credit card, valid passport and International Driving Permit are required and the minimum age is 21 (drivers must have held a full licence for one year). Plans for a Dubai metro are in the works, with completion of the first section expected around 2009.
Tipping
Tipping practices are similar to most parts of the world. Where no service charge is included, 10% is adequate and many hotels and restaurants add a service charge, so it is best to check the bill.
Local Customs
The Emirates states are all Muslim, therefore alcohol is not served except in hotels. It is an offence to drink or be drunk in public and penalties are severe. Some prescribed and over the counter medicines from outside the country may be considered to be a controlled substance within the UAE and will not be allowed into the UAE without prior permission from the UAE Ministry of Health Drug Control Department (DCD). A passenger arriving with such medication without permission may be subject to prosecution. Dress and behaviour should be modest, particularly during the month of Ramadan when it is disrespectful to smoke, drink or eat in public between sunrise and sunset. Women's clothes should cover the tops of the arms and legs. Cohabiting, adultery and homosexual behaviour are illegal in the UAE, and it is an offence to swear or make rude gestures, or show a public display of affection. In general, the country has a tolerant approach to Western visitors, but local laws and sensitivities should be respected.
Health Advice
No vaccinations are required for entry to the UAE, however a certificate is required for cholera and yellow fever if arriving from an affected area. Tap water in the major cities is safe to drink, but elsewhere only bottled water should be drunk. Medical care is excellent in the main cities, but extremely expensive, while medicines and medical care are not always available in the outlying areas. Health insurance is essential.
Safety Advice
Most visits to the UAE are trouble free. Crime is not a problem, but there is deemed to be a threat of terrorism against Western interests and gathering points, particularly entertainment venues. It is therefore wise to be vigilant when frequenting these. It is also wise to avoid political gatherings and demonstrations. Al Qaeda continues to issue statements threatening to carry out attacks in the Gulf region, including references to attack Western interests, such as residential compounds, military, oil, transport and aviation interests.
The Language
Arabic is the official language of the Emirates, but English is widely used.
Communications
The International code for the United Arab Emirates is +971. The outgoing international code is 00. City/area codes are in use, e.g. (0)2 for Abu Dhabi and (0)4 for Dubai. The Etisalat mobile phone network provides wide GSM 900 coverage throughout the country and Internet cafes are widely available.
Electricity
220 and 240 volts, 50Hz. The most frequently used plugs are the square three-pin type.
Local Time Information
Local time is GMT +4.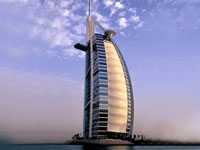 United Arab Emirates Overview
The United Arab Emirates on the southeastern tip of the Arabian Peninsula is a bit of an anathema in the Middle East. This union of seven sovereign sheikhdoms was formed when the British withdrew from the Gulf in 1971, and today it is a modern, trend-setting conglomeration of high-rise cities with state-of-the-art tourist infrastructure, magnificent beaches and a paradise of duty free shopping. Unlike other Arab states the UAE actually courts and encourages tourists, constantly adding and upgrading events and attractions to complement its renown as the shopping capital of the world. The sun always shines on the UAE and its gleaming cities, the most popular of which is cosmopolitan, wealthy Dubai, which is characterised by a ten-mile long (16km) deep creek that forms a natural harbour. In Dubai resides the Jebel Ali Free Trade Zone, which makes the city a must for shop-a-holics. A major attraction is the annual Dubai Shopping Festival. Abu Dhabi is the capital of the UAE and one of the most modern cities in the world. Visitors revel in large gardens and parks, green boulevards, sophisticated high-rise buildings, modern communication services and transport, international luxury hotels, rich shopping malls and cultural centres. The city's airport ranks as one of the finest in the world. Just in case travellers forget they are actually in Arabia, the UAE also offers a host of experiences and attractions that utilise its historic Bedouin heritage, including camel treks, henna tattoos, desert stargazing, 4x4 trips through sand dunes and cruises aboard a dhow. Hundreds of tour companies offer a variety of excursions and adventure packages to suit all tastes and persuasions.